Asian Beauty Online Slot Game
Love and fortune await those willing to try Microgaming's thrilling Asian Beauty online slot game. With its theme of beautiful women and Chinese culture, you'll be pleased with Asian Beauty's elegance and refreshing simplicity. The feature symbols are, of course, the Emperor's daughters. Will you have the honour to take them by the hand?
In terms of aesthetics, Asian Beauty has a gorgeous traditional and fairly simple feel in terms of imagery, symbols, and background. Especially when compared to some modern online slot games, which can be flashy to the point of being gaudy and ostentatious, Asian Beauty is a welcome reprieve with its elegant graphics and enchanting soundtrack that let you focus on the game.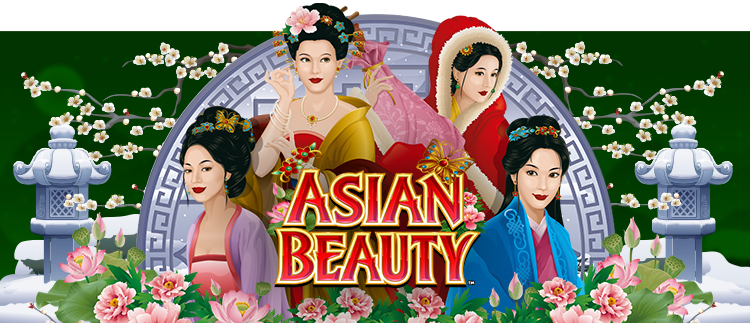 How to Play Asian Beauty
There are five reels in Asian Beauty and multiple symbols that need to match in a sequence along a chosen payline in order to win. Players may bet as little as 0.01 coins all the way up to 0.50 per bet, then must select which paylines to play. Up to 10 coins may be bet per line at a maximum rate of 30x. There are 243 ways to win in the Asian Beauty Slot Game.
When bets have been placed, players simply 'pull the lever' (spin) and wait for the reels to come to a full stop. Matching symbols going from left to right along selected paylines will award winnings according to the game's payout table. The symbols in the Asian Beauty Slot Game, ranked from lowest to highest, are: lotus, cherry blossom, silver ornament, golden ornament, then the four beauties themselves coloured in red, blue, yellow, and purple.
Asian Beauty Rules & Stats
If you're seeking great fortune and beautiful women, you'll need to know how to win big in Asian Beauty. The beauties are amongst the rarest of the symbols, but they also act as the wild symbol, which means that they'll substitute themselves to complete any sequences in favour of the player. If you line up a sequence full of beauties, however, you'll win 2,000 credits!
Slot games ultimately come down to luck, with little in the way of skill or strategy required. Players make decisions based on bets and betting patterns may be beneficial, but it's ultimately up to the slot game's random nature. Therefore, play responsibly and be sure that you're playing within your financial means. Rather than betting on single lines, try to play on multiple paylines with low bets at first until you feel familiar and comfortable with the pace of the game.
Special Features in Asian Beauty
The Asian Beauty Slot Game has some features to take note of. Its scatter bonus, symbolised by a treasure chest, activates whenever three or more chests are lined up in a sequence and begin a round of free spins. The number of free spins are as follows:
3 Chests: 10 free spin rounds.
4 Chests: 15 free spin rounds.
5 Chests: 25 free spin rounds.
There's also a bonus round that activates randomly as players progress through their play session. Mirrors replace the common game symbols and are turned over to reveal the beauties, which act as multipliers in the bonus round. If three girls of the same colour are revealed, the player then wins the corresponding value multiplied by the multipliers revealed during the bonus round up to a maximum of 9,000 credits.
If you're in the mood for a fun slot game that leans more towards casual players, Asian Beauty is certainly a great choice. It's got plenty of bonuses, free spins, and beautiful cartoon symbols befitting of an Asian themed online slot game.