Alaskan Fishing Online Slot Game
Hook, line, and sinker. The Alaskan Fishing Slot Game is a beautiful and exciting way to win big whilst admiring the untouched nature of this vast American state. Microgaming have outdone themselves in capturing the excitement of Alaska and its world-famous fishing.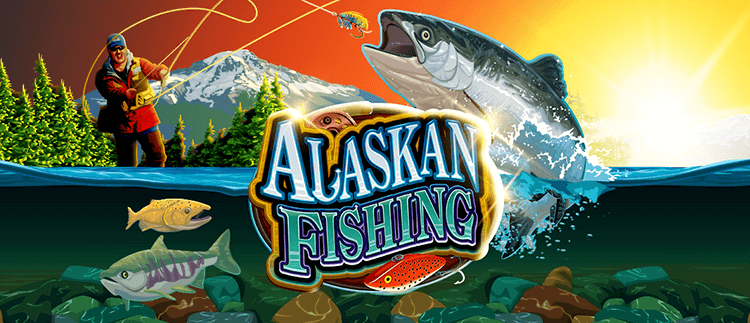 About Alaskan Fishing Slot Game
The great outdoors of Alaska are famed for their unspoilt natural beauty. Whether it brings to mind the rugged, mountainous landscapes or the rich variety of fauna such as grizzlies catching salmon in clean, natural rivers, the scenery is immersive and engaging.
This free to play slot game can be played interchangeably across a wide range of devices, from mobile to tablet to desktop. Its colourful graphics and upbeat soundtrack will keep you playing round after round and spin after spin.
How to Play Alaskan Fishing
Alaskan Fishing offers 243 ways to win across five reels, making it a fairly standard entry as far as online slot games go. This means it'll feel familiar to seasoned slot game players whilst not being too difficult to pick up and play for novices. Players may bet up to 300 coins, which enables them to place bigger bets as they become more familiar and confident with the payouts. Just like for real fishermen, bigger risks can entail bigger rewards. For those unfamiliar with multi-line betting and multiple ways to win, Alaskan Fishing makes things easy. Select your winning lines, which can be horizontal, single-line bets, or a combination of zig-zags, diagonal, and straight line bets to maximise your odds of winning. Place your bets accordingly and spin the wheel to see what kind of fish come up in your favour.
Alaskan Fishing Slot Game Rules & Stats
Alaskan Fishing isn't too dissimilar from most other online casino slot games. Simply select paylines, place bets, then spin. It's worth noting, however, that the game features a wild icon, the Alaskan Fishing logo, and a scatter symbol, the Tackle Box. Score one Alaskan Fishing logo to complete any missing symbol in a sequence, but score two and you'll receive a bonus payout. Land at least three Tackle Boxes and you'll receive a payout but also you'll win a round of 15 free spins. These free spins pay out twice as much and additional free spins can be earned if three or more Tackle Boxes land during the free spins round, making this an attractive way to potentially win big. This game can be played in Regular or Expert mode, which also helps to keep experienced players happy as well as welcoming in more casual slot gamers.
Special Features in Alaskan Fishing
The Alaskan Fishing Slot Game features a few bonus features that add variety and winning potential for players. The Fly Fishing bonus round takes players to one of nine new fishing locations to catch the most elusive (and valuable) of fish Alaska has to offer. This round triggers upon landing the Fisherman symbol on the first and fifth reel at the same time. The Fly Fishing round presents the player with a choice of nine fishing spots. Players must choose five of these spots and are then presented with a rare and valuable prize with winnings ranging from 2x to 15x their stake. What's the catch? While these features may be fairly standard in terms of online slot games, they're a nice touch that don't detract too much from the exciting pace of the game. Moreover, they provide players with a simple and intuitive reward system that can potentially pay out large sums of money to eager fishermen.
Play Alaskan Fishing Slots
Head out on the water and find out if you can reel in a big one in Alaskan Fishing. With some nice features to keep everything flowing, Alaskan Fishing provides an opportunity to enjoy some of the great outdoors with its unique theme and if you're luck's in, you might just land the jackpot!