Age of Discovery Online Slot
Head back in time in this exciting online slot game with a uniquely historic theme to see what treasures you can discover. Age of Discovery takes the classic slot game formula and puts a fantastic old world spin on things as you set sail for the new world.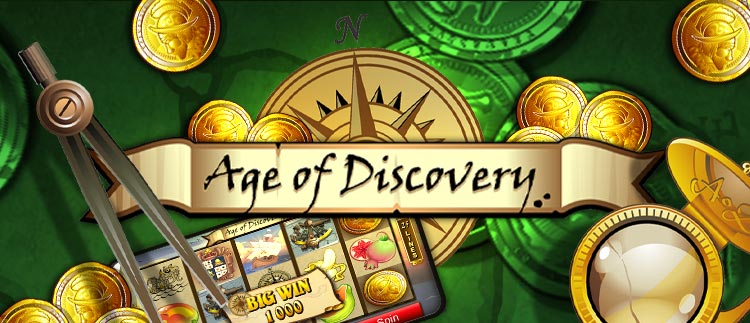 About Age of Discovery
Here you get to relive nuggets of history from humanity's past exploits, with the slot notably set between the 15th and 17th centuries.
This was the time of colonialism, when European settlers were focused on spreading their influence throughout the rest of the as-yet-undiscovered world. Therefore the various symbols represent exotic fruits that they would have encountered during their voyage including bananas, avocados and mangoes, alongside an explorer's ship and something that resembles a sea serpent.
The latter is this game's scatter symbol, so you'll be wanting to look out for it while playing as well as a precious gold coin that triggers the slot's Wild feature, both of which we'll cover in more detail further on.
How to Play Age of Discovery
Not only is the slot's design nice to look at, its user interface is easy to understand. From left to right along the bottom you'll see a display for available coins, stake amount, line select, coin select, Max Bet and Spin options. Above the 'Spin' button is a 'Win' display, which all players are likely to be very interested in.
Actually playing the slot is similarly straightforward. It has 25 paylines spread across 5 reels, which is generally typical of Microgaming online slots and if you've played any of their software before, you'll pick it up in no time. It's an easy slot to enjoy. You can use 'Auto play' by clicking on the 'Expert' option; this will enable you to play for a number of spins without pausing but isn't recommended until you learn how the game works and decide whether or not it's for you.
Age of Discovery Rules and Stats
This slot has a decent Return to Player (RTP) percentage of 96.62%, which is around the average for slots of this kind and means you have a high chance of retaining most of the cash you invest. A free to play demo version is also available to help you learn the game before you're comfortable with using real money to play.
Coin sizes range from 0.01 up to 0.50 and you can choose to play from 1 coin per pay line up to 10 coins per line. Bearing in mind there are 25 pay lines, this translates to a minimum stake of 0.25 and a maximum bet of 125. So whether you just want to have a bit of light fun or are a high roller seeking big wins, Age of Discovery is likely to satisfy.
Special Features in Age of Discovery
As mentioned previously, regular exotic fruits aren't the only things you'll be looking out for in this game. There are three other important symbols that could help you hit some jackpot wins, the first of which is a sea serpent scatter symbol. But most of all you'll want to hit 3-5 compass symbols, or the special Wild feature represented by a gold coin.
Match up compasses and you'll bring up a treasure map with 30 'dig sites'. Your main objective here is to find a 'Skull and Cross Bones' to win, which you can do by selecting certain sites in which to dig.
The gold coin acts just like a typical Wild in any slot game, substituting for all other symbols and potentially helping you string wins together in a good streak. Overall, this can be an enjoyable slot to play, and it is greatly boosted by pleasing visual presentation.