5 Reel Drive Slot Game
You don't need to travel to get your kicks on Route 66 if you're playing Microgaming's all-Americana 5 Reel Drive slot game. Experience the thrill of the open road with fast cars, fast food, and of course, fast winnings thanks to the game's quick and straightforward approach to slot gaming action. The slot game Agent Jane Blonde Returns, also follows on this fast paced action!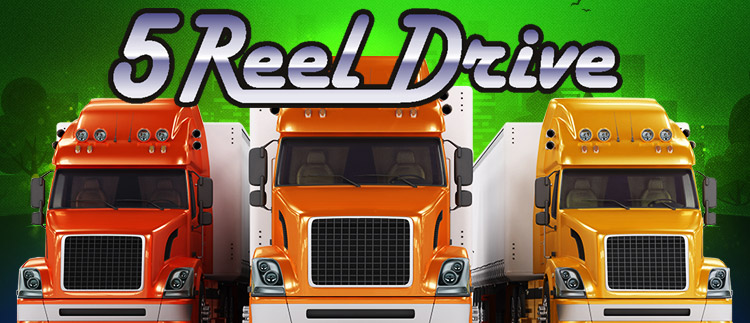 About 5 Reel Drive Slot
5 Reel Drive is great aesthetically, with graphics and animations reminiscent of classic racing themed video games. The game's cartoon feel and theme fit nicely and get you straight into the action without coming across as too serious (but the winning potential certainly is).
In terms of sound effects, don't expect too much from 5 Reel Drive. The sounds are reminiscent of older titles with beeps and boops. There is no soundtrack either, so you may wish to listen to your own music whilst playing.
How to Play 5 Reel Drive
Although the game features neither stop signs nor speed limits, it's worthwhile to slow down at first to get a handle on the game's mechanics. As one may guess by the title, 5 Reel Drive features five reels with three rows each. There are nine total paylines, which is far less than what many other games offer but is a good number for those looking for simple, classic-style slot action without the complexity of hundreds of ways to win.
Players must arrange a sequence of matching symbols across one of the game's paylines in order to win the corresponding prize. The symbols are: French Fries, Soda, Lucky Dice, Blueberry Pie, Coffee and Donut, Hamburger, Bandit Car, Trucker, Flaming Wheel, Police Car (the game's scatter symbol), and Curve Ahead sign (the game's wild symbol). The fast food items are worth the least whilst the car-themed symbols are worth the most, with the Flaming Wheel being the most sought-after symbol since it awards a jackpot of 10,000 coins if five are lined up.
5 Reel Drive Online Slot Rules & Stats
The rules in 5 Reel Drive aren't complex for anyone who has played an online slot game before. That's all right, since many modern slot games dilute the action of spinning the reels with minigames and complex rules that can turn out to be confusing or distracting. Simply place a bet, spin the reels, and win the corresponding payout.
This is made easier with the game's high chances of winning. At 97% RTP, 5 Reel Drive is marginally higher than the industry average of 95%, so you'll be spending more time winning.
Special Features in 5 Reel Drive
Quite simply, there are no special features in 5 Reel Drive. The scatter symbol (the Police Car) does not award free spins, but instead grants players a multiplier on their current spin. It's straightforward: lining up 3, 4, or 5 Police Cars on any of the reels awards a multiplier of 5x, 20x, or a whopping 50x, respectively, on the number of coins being bet.
The game's wild symbol, the Curve Ahead sign, substitutes for any missing symbol in order to complete a winning sequence. This isn't anything new, but they do show up fairly often which is always nice.
Play 5 Reel Drive
With a light touch of humorous Americana and a reasonably good RTP, 5 Reel Drive is a whole lot of fun to pick up and play casually. It's got a great theme that's a little different to many slot games, without being too complex. But simplicity and pure slot action is often preferable, so give it a spin!