French Roulette Gold
Players of Microgaming's famous online casino games may be familiar with the Gold series of games; French Roulette Gold is fortunate to have made this prestigious list of titles and is a fresh and modern way to play classic roulette online.
If you're a fan of online roulette then this title is definitely worth a look. One advantage of Gold casino games by Microgaming is that they're usually refined and improved subtly without detracting from what made them great in the first place.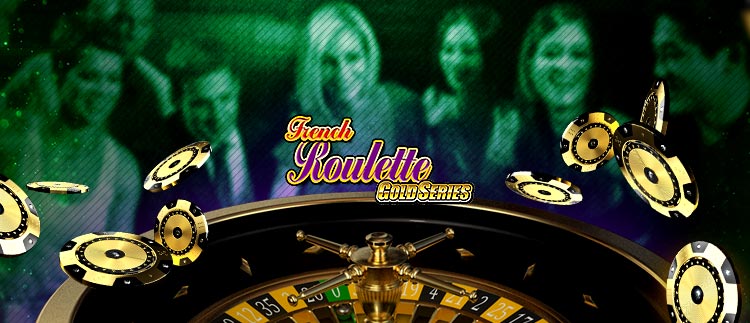 About French Roulette Gold
French Roulette Gold looks and feels great and the improved user interface, customisable options, and clean digital table with interactive betting options make this game a great go-to for some reliable and exciting roulette fun.
How to Play
On the one hand, French Roulette Gold is easy to pick up and play. On the other, it can seem a little overwhelming to players that haven't played roulette before. Not to worry, French Roulette Gold - and roulette, more generally - are essentially games of chance. Statistics and 'gambler's fallacy' abound for explaining the seemingly complicated betting patterns that some players choose, but ultimately it's a game of chance.

The top left of the playing area features a spinning wheel onto which a ball is dropped. When the wheel comes to a stop, the pocket in which the ball is found yields a corresponding payout. These payouts can be based on colour, odd/even, exact numbers, groups of numbers, and many other combinations thereof. At the end of the day, players can expect to win based on how they placed that bet.

For starters, players must place bets according to how they expect the ball to land. Since Microgaming is famous for having a great, interactive user interface, betting is made much easier with up to eight pre-set betting layouts. Simply click the bets that you'd like to place, such as by exact number, groups of numbers, odd/even, black/red, etc. and then commit your bets and let the action unfold!
Rules & Stats
All roulette games, both brick and mortar roulette tables as well as online tables, are games of chance. That being said, there is always a house advantage in these types of casino games. The good news is that French Roulette Gold has a very nominal house advantage of 1.35 per cent. This means that you can spend more time spinning and less time worrying about losing it all to unfair odds.
Special Features
There aren't any special features in French Roulette Gold aside from an Auto Play feature. This handy little feature makes it such that players can choose their bets and allow the game to proceed automatically for up to 100 rounds. That's not bad, considering that much of the action in roulette revolves around the betting strategies, which can take some time and thus distract players from the excitement of the spinning roulette.
Aside from the Auto Play feature, French Roulette Gold doesn't need any special features. Pure casino action is all that's needed for this game to stay true to its roots of European roulette.
Play French Roulette Gold
For players looking to try out some classic European-style roulette online, French Roulette Gold is amongst the best choices to get immersed and to see what the excitement's all about. Roulette is commonly one of the more popular casino games in brick and mortar casinos, so it's no wonder that it's translated well into the online world. Play French Roulette Gold and see what all the fun's about!