Castle Builder II Online Slot Game
Is it a slot, or is it an RPG? Castle Builder II is one of the very few games where you can legitimately ask that question. We can thank the creative team at Microgaming for taking players on a trip through 15 different kingdoms. The original Castle Builder was an award-winning slot, but the sequel is bigger and better in practically every way. Here you can build 75 types of castles, woo damsels, and meet over 300 characters while spinning for glory. It all takes place in a lush slot that combines cartoonish antics with some seriously good gameplay.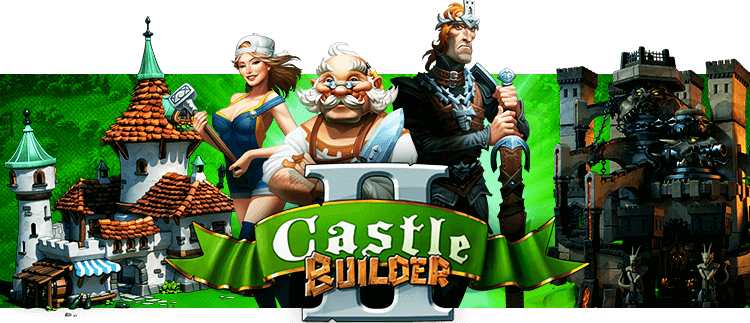 About Castle Builder II
Players choose from three avatars to embark on a castle building career and amass fame and riches. As the game progresses, character's attributes can be upgraded, trophies won, and castles built that would make kings jealous. Thrills don't just come from the satisfaction of building an empire. Castle Builder II is also jammed packed with excellent bonus features and opportunities to stack up coins! For a fantasy-themed, RPG style slot that is brimming with extras, there is nothing like Castle Builder II!
How To Play
Step one is to select either Sam or Mandy to begin the adventure. Each avatar has different characteristics when it comes to architecture and charming people. The next step is equally important – selecting stakes. Once that is done, it is time to spin the game's 5 reels, with each one 3 rows high. The grid has up to 15 paylines on which to land winning combos of three or more matching symbols. There are 8 pay symbols in total – 4 high and 4 low. The high pays are symbols of wealth, such as rings, gold bars, chests, and crowns. The other four are materials - wood, bricks, granite, and iron ore, which might be low pays, but they are crucial to creating castles.
When a combination of materials lands, it is collected on a pallet. When the pallet is full, it can be used to make a portion of the current building project. Once the castle is built, a princess moves in to attract a suitor. As the game progresses, the castles increase in size and can attract more lucrative suitors.
Helping in this process is the handywoman wild symbol. This useful tile can substitute for any other regular symbol for more wins, more materials, and more pallets for the castle!
Castle Builder II Rules & Stats
Compared to the original, Rabcat has dialled up the volatility with Castle Builder II. Players can enjoy a higher setting which means bigger wins are theoretically possible in shorter periods of time than a lower variance slot. RTP is also on the high side, which is fantastic news for users and ranges from 95.5% to a whopping 97.75%!
Special Features
As well as building ever fancier abodes for the princess and collecting rewards on the way is a new bonus game. This feature was sorely missing from the original Castle Builder slot, and the developers did us a huge favour by bolting one onto the sequel.
The key to triggering the bonus game is the swirling pink scatters. When 3, 4, or 5 of these desirable symbols lands, they trigger 10, 15, or 20 free spins respectively. Wins and materials can be collected during free spins to build bigger and better castles for the princess and generate coin rewards!
Play Castle Builder II
There aren't many slots that take players through plains, jungles, mountains, deserts, and into the sky. Castle Builder II doesn't just provide a gorgeous looking game to spin reels. Players can fully immerse themselves in an entirely new world where they can make their mark. As well as the phenomenal gameplay and compelling storyline, the cherry on top is the fabulous riches available for lucky artisans to collect. If you want a title that's different to most slot games and offers great depth and longevity, where there is always something new to discover, then Castle Builder II is ideal. Castles or a Carneval, we have it all here at Gaming Club Casino!