The Best in Live Baccarat Online
Join the realm of the high rollers when you sign up to play Live Baccarat at Gaming Club, the classic casino game, so favoured by the rich and famous for its many opportunities to win. Baccarat is a fast-paced game, and our lovely live dealers will ensure you have a truly enjoyable experience.
Baccarat often attracts the high rollers because they know there are many opportunities to win. You dictate the pace of the game by the speed with which you place your bets. So, if you only have a few minutes or you have a few hours, you can enjoy as many games as you like.
Remember, like online pokies, lady luck herself runs the game of Baccarat. When the cards are dealt, neither you nor the dealer, have a say in the outcome. Gaming Club uses only exceptional dealers who know just how to make sure you have an outstanding experience. Join us at New Zealand's premier Live Casino.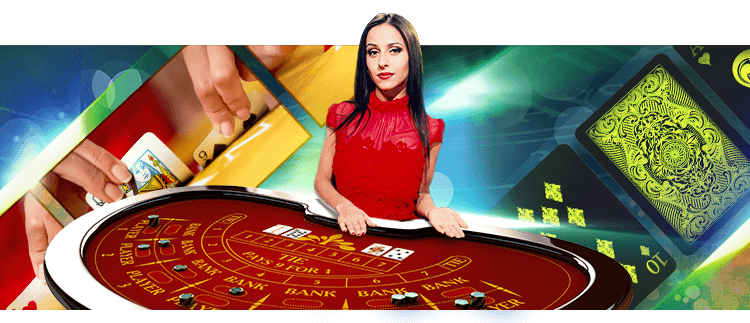 So Good it Feels Real
At Gaming Club we have made it our duty to ensure that our players experience only the best in Live Baccarat. To do this we use only High Definition cameras which are set up to ensure you can experience online casino games with a full round view, and have incorporated a live chat facility to add to the experience.
Just like in Macau, we use bean shaped tables, and our excellent software gives you a choice of roads to display the results. Bead or Big Road, Big Eye Road, Small Road or Cockroach Road; its up to you. The casinos of Macau have really taken the game of Baccarat to new heights and so have we. Gaming Club's Live Baccarat experience will exceed your expectations, while you chat with the dealer and keep an eye on the other player's bets.
Perfect on any device, Android or iOS, tablet or phone, desktop or laptop, our Live Baccarat casino games never fail to impress.
A Table for Every Taste
We offer you a variety of different tables from which to choose, ensuring you will find the perfect fit for your Live Baccarat experience.
The Squeeze tradition is used to increase the tension, prolong the anticipation, and heighten the excitement of the game. Our tables offer you an exciting Live Baccarat experience.
The use of multiple cameras is going to enhance the experience of watching the dealer slowly squeeze the card and will have you on the edge of your seat, as you eagerly await the big reveal. The Dealer will perform the all-important squeeze, but several views will ensure that you get to experience every aspect.
Take Control
Gaming Club Casino's Live Baccarat gives you the chance to control the squeeze yourself! Our top of the range online casino software gives you a true VIP experience. With just the click of the card corner, you can reveal the cards as quickly or slowly as you like.
Playing Live Roulette even gives you the option to practise and perfect your Squeeze technique.
Our multi camera views, give you a fully immersive experience at the Live Baccarat tables. A view from every angle you won't miss a single part of the action, all delivered to you in top notch HD.
High Speed Anticipation
If you want to increase your chance of winning, up the tempo, or simply only have a few minutes to spare, you can play our Live Baccarat in only 27 seconds per hand at our online casino. The average Baccarat hand lasts 45 seconds, but with Gaming Club's Live Speed Baccarat you can fit two bets in to any spare minute you have.
Gaming Club Offers Only the Best
Gaming Club's Live Online Casino gives you access to the best in live gaming pleasure. Enjoy our generous bonuses, regular promotions, and exclusive loyalty rewards. Gaming Club is fully licensed and regulated ensuring only the best for our players who love what online gambling has to offer! Sign up, and play Live Baccarat to place your bet on the player or banker, indulge in pokies or play online Blackjack. It's all waiting for you at our casino online!