Excitement Deluxe with Live Roulette
Watching a Roulette wheel spin has never been as exciting as it is at Gaming Club Casino! Whether you are new to the wheel, or The Devils Game is old hat to you, our Live Roulette is guaranteed to keep you entertained.
Our Live Roulette casino games have a wide variety to choose from that go beyond just the traditional European or American wheel. Gaming Club are able to provide players who enjoy the online gambling an exceptional experience, that will rival even the most exclusive brick and mortar casino.
With Live Roulette available for phone, tablets, and desktop computer, you can experience the thrill of the spinning wheel, live, anytime you choose.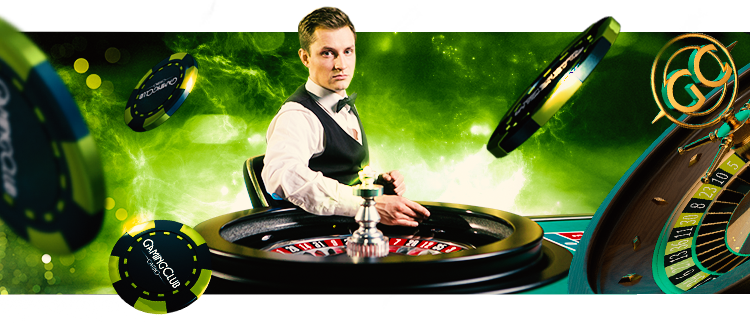 Live Roulette Origins
All Live Roulette games originated from either the European or American Roulette casino game. The most noticeable difference being on the Roulette wheel itself.
Both wheels are numbered from one to 36 and have alternating red and black pockets. The difference is in the green zero pockets. The European version has only one green pocket, with a single zero, whereas the American wheel has two green pockets, the single zero and a double zero. This pushes the casino game's house edge by almost double, so European Roulette is always a good starting point, until you have the confidence to increase the challenge!
The Ins and Outs of Live Roulette
Winning in Live Roulette is easy, simply choose the colour, red or black, which you think the ball will stop in, or pick a particular number.
With our live Roulette online casino games you can place outside bets or inside bets. Outside bets offer players a higher chance of winning, but inside bets tend to have better odds. Our expertly trained dealers will help you get started and then spin the Live Roulette wheel to see where the ball lands.
Multiple Games to Choose
With so many Live Roulette games to choose from, Gaming Club Casino wants you to experience the best of every version. Give them all a go and see which is your favourite. A taste of what we can offer:
Immersive Live Roulette: This version will make you feel like you can reach out and touch the wheel. Using multiple cameras there is no chance that you will miss a single bounce of the ball, and just in case the anticipation became so overwhelming that you just had to close your eyes, we offer slow motion replays.
European Live Roulette: The version that started it all, European Live Roulette is the epitome of classic Roulette. This Live Roulette version will save up to fifteen favourite bets and can be played on any device. Beautifully displayed to ensure we do this traditional favourite justice.
Speed Live Roulette: Up the pace with our speed Live Roulette. With just 25-seconds a round, this is a great version if you are pressed for time, on the go, or just want a second by second adrenalin rush.
Double Ball Live Roulette: An offering that is completely unique, Double Ball Live Roulette offers double the fun, and double the chance to win. Two balls mean two pockets, giving you two choices to place your bets on.
American Live Roulette: Another casino game classic, this version of Live Roulette ups the ante a little by using the wheel with the extra, green double zero pocket. We've added extra betting options for a more diverse game.
The Best in Online Casino Games
Gaming Club has so much to offer players in New Zealand. From Live Roulette to online Blackjack, top class pokies and everything in between, we have casino games to suit everyone. Enjoy a casino online experience that's unrivalled when you play Live Roulette and more with us!