Excellent Online Live Roulette
The game of Roulette is as exciting today as it was centuries ago. This iconic casino game offers heart-racing action. When Roulette is played Live at Gaming Club it is sure to keep you enthralled!
Using Evolution Gaming's revolutionary gaming platform you won't find a better Live Roulette experience anywhere else. So good are our dealers and live feeds that you can practically reach out and spin the wheel yourself. As authentic as the game is at an actual casino, we offer you double the comfort and double the convenience at a top online casino Ireland!
So, start playing this exhilarating Live Casino game with us and let the luck of the Irish take care of the rest.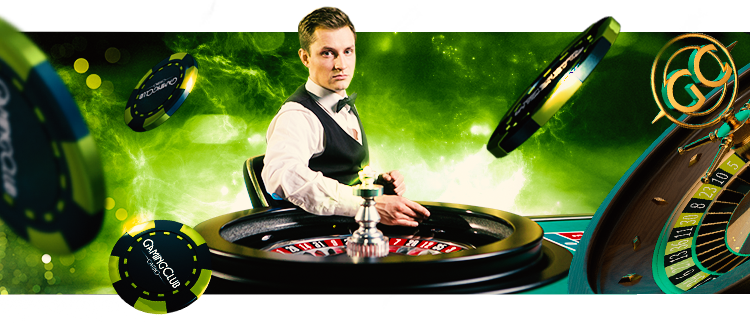 The Beginning of Live Roulette
At Gaming Club online casino we offer a few variations of Live Roulette. However, the game has two main origins. Starting in Europe, as it gained popularity it has undergone a few changes as it was adopted across North America. Today, the main difference between European and American Live Roulette is the wheel on which you play.
Both wheels feature red and black alternating pockets numbered 1 to 36, however, the European wheel has a single green 0 pocket and the American wheel has two green pockets, a 0 and a 00. There are other minor differences in the bets that are allowed, but it's safe to say that each one of these online casino games offers something special!
Gaming Club offers the more traditional casino online versions, as well as the one's that create so much anticipation and that play out so fast you'll be amazed at how quickly you are a winner! Unlike the game of Blackjack, like online slots, Roulette is all about luck, and winning big is easy!
How to Play Live Roulette
Winning with Live Roulette at our online casino is simple. You have the choice of a colour bet where you pick either a red or a black pocket, or you can choose a particular number. You can also bet whether the number will be an even or odd number.
Our Live Roulette dealers take the standard Outside and Inside bets. The latter considered more difficult, but with higher payouts.
Once all bets are in, our lovely live dealers will spin the wheel and you can watch and see whether you'll be richly rewarded!
Join us to try your luck in online Roulette and other Live Casino games or online slots. With access from any device, playing at a casino online has never been easier.
A Wide Live Roulette Selection
Evolution Gaming has created many versions of this exciting casino game, along with other Blackjack online games, Baccarat and more top titles. Try your luck at all of them to see which is hiding the pot of gold!
Gaming Club online casino Ireland offers you the following Live Roulette options.
Immersive Live Roulette:
This is a multi-camera version that gets you right up close to the action. The full HD live stream cameras show 200 frames per second and slow motion playbacks of the ball's final resting pocket.
Immersive Lite:
This adds an extra dimension to the Live Roulette tables, not as intense as the Immersive Live Roulette; it just gives it that little something extra.
European Live Roulette:
The way it was invented. You will be playing on the single 0 green pocket European wheel.
Speed Live Roulette:
Pack twice as many rounds into a session with this high speed 27-second round. Twice the pace for twice as many chances to win.
French Roulette:
Because the French must always be different, French Live Roulette is still played on the single 0 European wheel, but includes the La Partage rule. An even money betting rule that allows you to keep half your money should you lose.
Double Ball Live Roulette:
Yet another unique version from Gaming Club, because we love to see our clients win. Double Ball Live Roulette uses two balls giving you even more thrilling betting opportunities. With payouts as high as 1300:1!
American Live Roulette:
Playing on the double green pocket wheel, this version of the casino game offers a slightly bigger challenge.