Play Baccarat Online at Gaming Club
If you are a fan of playing Baccarat casino games, a Gaming Club Casino experience should be on the cards for you! You will be able to replicate a first-rate Baccarat experience with the top-quality software on offer here.
The hyper-realistic online casino Baccarat graphics combine with thrill-a-minute gameplay and a good variety of stakes to offer the most excellent online gambling New Zealand is capable of!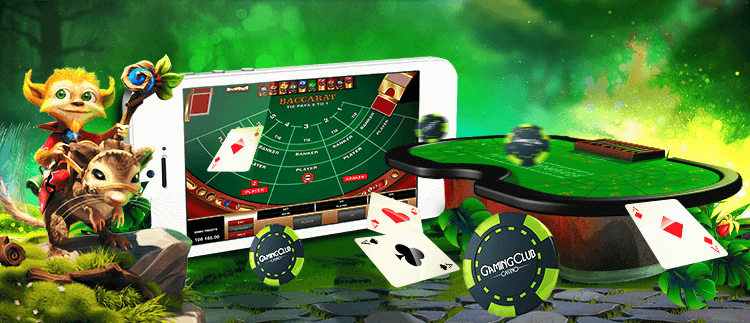 The History of Baccarat
Much like Blackjack, Baccarat has quite an extended history, and was initially introduced in France by King Charles VII's court in the later part of the 1400s. Until just a few years ago, however, the only way to enjoy top Baccarat games was in a brick-and-mortar casino, but, luckily, things have changed! Thanks to the great quality casino games Gaming Club is able to offer, you can take part in all the excitement of live action play from anywhere you are.
How to Play Baccarat
Baccarat is similar to pokies in that it is largely a game based on luck. As a player, there are 3 choices for you to make in terms of betting:
The Banker's hand
The Player's hand
A Tie
Bear in mind that the Banker and the Player are simply names for the 2 hands that are dealt during each Baccarat game, and stand as 2 outcomes on which you can wager. The Banker has no association with the house, and the Player has none with you.
In online Blackjack games, you need to get to a hand total of 21, in Baccarat games you need to get to 9. The cards all have specific values, with those from 2 to 9 worth their face value, the King, Queen, Jack, and 10 being worth 0, and the Aces stand at 1 point each.
For example, let's say that the Player's hand is composed of a 3-value card and a 4-value card. The total of this hand would be the sum of these cards, so it would be a 7. The Banker hand in this example is composed of a 7 and an 8, which would give you 15. Because this is a 2-digit number, the left digit is dropped, so the Banker hand would total 5, and, in this round, the Player hand would win.
Once you have placed your bet on 1 of the 3 options, 2 cards will be dealt to the Player and Banker hands. Depending on the value of the Player hand another card may be given, but you don't have to worry about this, since the software will automatically be able to calculate whether this should occur.
Enjoying Online Baccarat Games
One of the best advantages of playing Baccarat at Gaming Club Casino online is that you can indulge in practice play games for as long as you like, and only need to lay a real money wager when you are sure you know how to play. This means that you can take the time to practice until you have the confidence to enjoy casino games when you are playing them for real!
All Gaming Club's online casino games are powered by Microgaming, a world-renowned casino software provider famous for the high quality of its top class titles. Whether you enjoy beating the dealer to 21 in Blackjack online, exploring the latest and greatest online pokies, or spinning the Roulette wheel whenever you can, you will be able to find these casino games and many more when you sign up for an account with us!