The Legend of Shangri-La: Cluster Pays
With its rich graphics and magical colours, The Legend of Shangri-La Cluster Pays is a beautiful looking online slot game from leading developers NetEnt.
Enjoy the magical atmosphere that this game evokes and be swept into an ancient world full of legends and adventure. With the wise Chinese Red Panda as your guide, and beautiful soothing music and a unique mystical appearance to reward your senses, play this game and lose yourself in a magical story with a chance to win big!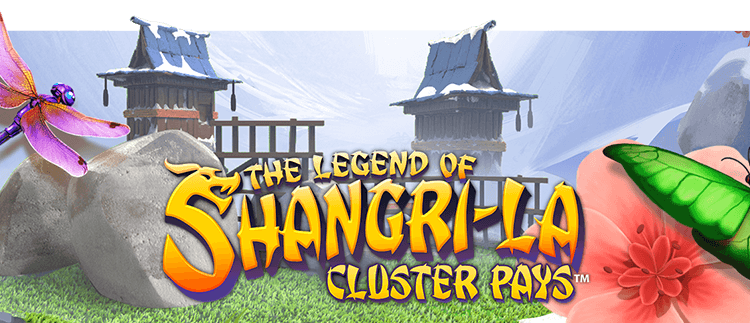 About The Legend of Shangri-La: Cluster Pays
With its rich and sophisticated graphics, The Legend of Shangri-La is a joy to play. Perfectly optimised for all devices, it loads speedily and offers a flawless and intuitive interface whether you're playing on your PC or out and about on your mobile device.
Once the subject of a bestselling novel by James Hilton, the mythical paradise of Shangri-La has captured the imagination for generations and its modern form as an exciting Cluster Pays Slot Game ensures that it continues to fascinate. Through its current incarnation, the legend of Shangri-La continues to weave its magical spell and could offer great rewards if luck is on your side.
What Is a Cluster Pays Slot Game?
Cluster Pays slot games are an innovative twist on the original slot games developed by NetEnt. Cluster Pays slots mean that players can win with nine symbols touching each other anywhere on the board. This offers an intriguing twist on the regular slot game format and means there are different ways to win in this enjoyable and innovative evolution of slot gaming.
Features In The legend Of Shangri-La: Cluster Pays
There are some incredible special features in The Legend of Shangri-La including random substitutions that help you reach a 9 symbol cluster and the fantastic Free Spins bonus that's activated when 3 or more free spin symbols appear. The substitution feature is a great bonus and means that a symbol can transform to match one on an adjacent reel, which really helps to increase the game's winning potential which can be up to 1,000 times the original stake!
How To Play The Legend Of Shangri-La
The Legend Of Shangri-La is a great looking game that's also simple to get into. Simply select your stake amount and hit the spin button. There's a handy auto-spin feature as well which can make life even easier. There are a number of bonus features in the game including free spins, and if you hit 2 free spin symbols, the game's nudge feature becomes activated so that the third symbol can be nudged into a winning alignment.
Play The Legend of Shangri-La Cluster Pays
The Legend Of Shangri-La is a highly enjoyable game to play that has a unique theme not commonly found in slot gaming. With its gorgeous graphics, soothing sounds and intuitive interface, it really is a feast for the senses. The special features and potential for some massive wins keep the game exciting as you never know what's going to happen next!