Scruffy Duck Slot Game
You don't have to get all your ducks in a row to have an exciting experience with Scruffy Duck. As an easy to play slot machine from NetEnt software, you'll be spending your time at the local pond, full of colourful ducks and eggs. Despite its peaceful and tranquil look, however, you'll be entertained for hours on end with its multiple bonus gameplay features, including free spins and more!
If you're looking for a peaceful way to spin and win, Scruffy Duck boasts a layout that's easy on the eyes just as much as it's complemented by a fun and laid-back soundtrack. Its interface is vibrant and filled with cartoonish ducks that's sure to make you smile.
Perhaps it isn't as high adrenaline as some other slot machines, but don't let that put you off from the great potential for winnings from Scruffy Duck.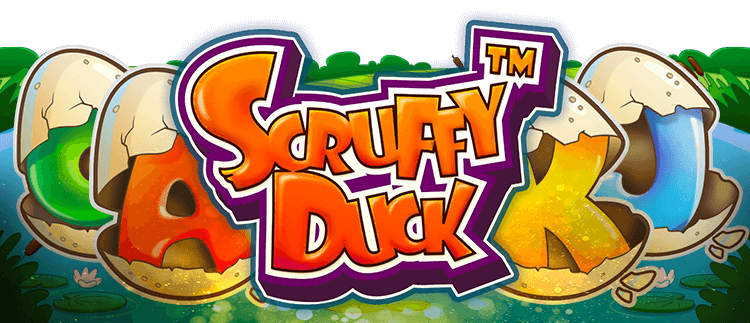 How to Play Scruffy Duck
Scruffy Duck is not only plenty of fun, but it's also a breeze to play. This video slot machine has five reels with 25 paylines. This makes it an ideal way to get straight into the action without spending time adjusting complex betting options. Punters are able to toggle the coin value and bet level, which ranges from 0.25 credits to 250.00 credits.
First-time players may be deceived by Scruffy Duck in thinking that it offers a low variance. Rather than being a low variance slot, however, this game has high volatility due to its stacking symbols. By having the symbols stacked on the reels, it's more likely that you'll be able to see multiple wins awarded.
A novel feature of Scruffy Duck is its wild duck icon, which appears during the game and assists players' winning formations on their 25 paylines as it expands over top.
Scruffy Duck Rules & Stats
Playing Scruffy Duck is as fun as it is easy to learn. There are some rules, however, that players should take note of.
Firstly, Scruffy Duck is a slot machine casino game, which means you'll have to line up matching patterns of ducks, eggs, and other symbols on the reels in order to win. There are prizes ranging from very low in the paytable all the way to very high, ranging up to a multiplier of 400x. Lining up symbols is just the beginning, however, since there are many combinations that award greater winnings.
Since many symbols stacked on the reels, it's a lot easier to make multiple wins happen. There are also many bonus features and free spins available whilst playing.
Special Features in Scruffy Duck
The game offers a free spin bonus round, which is initiated whenever three or more free spin icons appear anywhere over the reels. You'll be given a pick 'em side game when the free games begin so that you can see how many free spins will be awarded, as well as the feature to be used during the bonus game.
There are many features that may increase your winning potential. They include:
15 free spins with multipliers: wins during free games are given a 3x multiplier
12 free spins with removal of symbol: this feature removes a symbol from the reels, which makes it more likely you'll win combinations
10 free spins with wild: this feature adds a wild icon to the reels, which gives a chance to earn even bigger winning combinations
8 free spins with random wilds: this feature places 2 to 5 wild icons, which will be randomly placed on the reels during each free spin
6 free spins with double: bonus time! You'll receive a random selection of two of the above bonus features, which are in effect simultaneously during the bonus round
The wild icon can also appear during free games, which increases your chances even more of winning bigger prizes.