Lucky Koi Online Slot
Lucky Koi is a gorgeous slot machine game with a distinct Chinese theme made by Microgaming. The themed music and graphics create a calm, relaxing atmosphere as you spin the slots and try to match the symbols together.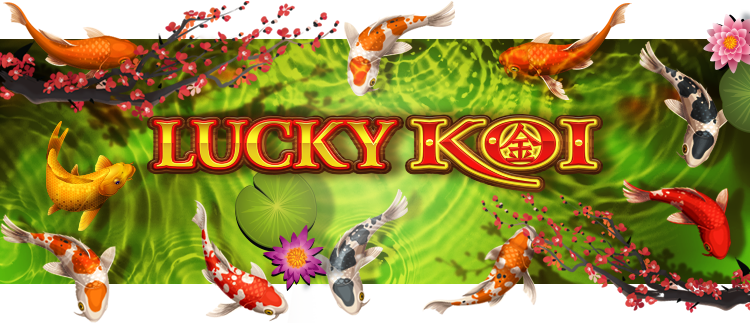 About Lucky Koi Slot Game
It features 5 reels and 3 rows with 25 adjustable paylines that pay out left to right. The game features a fully animated background and many of the symbols have animations associated with successfully matching them, resulting in a very colourful and dynamic aesthetic that separates it from other, similar casino games.
The game features standard slot game mechanics, such as auto-play, wildcards, bonus multipliers, free spins and a unique bonus game. All this adds up to plenty of variety, which helps it to stand out from the competition and make it a worthwhile game to play when you're in the mood for slots!
How To Play Lucky Koi
The game plays like a typical slot machine and features 11 different symbols plus wildcards to be matched. Most symbols require between 3-5 to be matched, with 2 requiring only 2 to be matched.
While you can manually spin the slots yourself, the game also features an auto-play mechanic, allowing you to sit back and spin the wheels automatically while enjoying the game's aesthetics. Symbols can be matched horizontally and diagonally across the 3 rows, including going diagonally both up and down across the 5 reels, making for a generous level of matching opportunities.
Lucky Koi Rules & Stats
The game allows bets of between $0.25 and $25 for matching between 2-5 symbols. The game has a RTP of 96.47% with 25 adjustable paylines paying left to right. The game features a scatter tile which, when 3 or more are matched, allows you to trigger a bonus of either free spins with a random multiplier applied or a koi bonus game. Multiple matching symbol rules can be triggered on a single pull.
The game features generous payouts and a very good RTP rate. This, in addition to the bonus features and bet limits, make it a very attractive choice of a slot game for both casual players and more serious slot game players.
Special Features In Lucky Koi Slots
The game features special bonus games if you can match 3 or more scatter symbols. You'll be able to choose from between 20 free spins or a special koi bonus game. The 20 free spins comes with a random multiplier.
The koi bonus game allows you to fish in a koi pond 3 times, choosing between differently coloured kois, each of which provide a cash prize. The scatter symbols do not have to be matched in a row; only 3-5 scatter symbols need be present anywhere on the reels in order for the bonus to be triggered. The special bonus game is fully animated, adding some unique variety to the usual slot game and also adding some extra excitement in the form of bonus coins, while fitting with the game's aesthetic!
While both choices represent a good opportunity to cash in, it's much more fun to choose the koi fishing game over the free spins. The free spins are absolutely random, so if you're in the mood for an extra gamble then give them a go, but otherwise the koi bonus game features guaranteed payouts, making it overall the more attractive option, even without accounting for the bonus koi fishing game's novelty and relaxing aesthetic appeal.