Holly Jolly Penguins
Ho, Ho, Hold up a moment. A Christmas-themed slot game with penguins? Microgaming once again manages to add a fresh, colourful theme to its gaming arsenal with Holly Jolly Penguins, a highly entertaining and potentially very lucrative online slot game.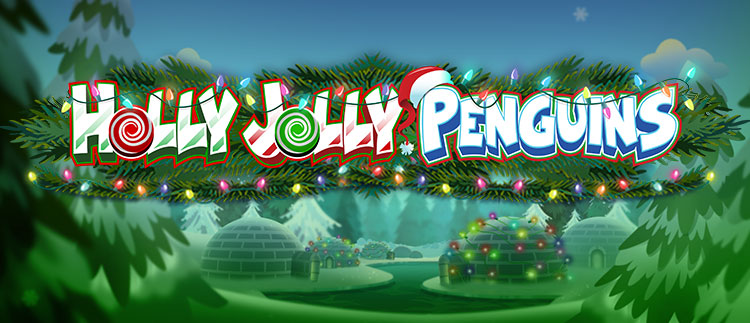 About Holly Jolly Penguins
Everyone can have a great time spinning the reels with these cute, lovely penguins and the Christmas-themed soundtrack.
The Christmas spirit is in full swing with Holly Jolly Penguins, but it's enjoyable year-round as well. As with many of Microgaming's releases, the colours and 3D environment is vibrant and detailed. No matter whether you're in the spirit, eating mince pie or Christmas pudding or enjoying the warm summer months, this game is a real treat to play.
How to Play Holly Jolly Penguins
Holly Jolly Penguins is easy to pick up and play. It's a typical online slot game, so the spin, bet, and option buttons are all within easy reach. This game has five reels and 45 paylines and players must land a sequence of matching symbols across one of these paylines in order to receive the corresponding payout.
One of the best features of Holly Jolly Penguins is that players can get in and play, commitment-free with the game's free to play option. Try out a few spins to see if you like it before putting down a deposit.
In terms of symbols, you can expect plenty of colourful penguins, including Darryl, Quincy, Quasi, Sven, Ole, Larry, Lorenzo, Rudy, and Tania, as well as the high poker cards, 10, J, Q, K, A, 2 sledging penguins (the game's scatter), and the game's wild symbols. The penguins are fully animated and will sing and dance whenever a large payout is awarded. Wild symbols can substitute themselves for any missing symbol to form a winning sequence.
Holly Jolly Penguins Rules & Stats
There aren't any rules in Holly Jolly Penguins that would seem out of place in other online slot games. Most of the typical features are in place here, however, including wilds and scatters. Wilds have already been explained above, but it's worth noting that this game has two wild symbols, both of which are cute penguins.
Bets start at 0.50 per spin all the way up to a maximum of 125.00. Bets placed at 125.00 have the potential of returning up to 2,500 with a jackpot, which is fairly impressive. For many players on a smaller budget, the 0.50 initial bet amount may be unappealing, but for those with a large bankroll this game has high winning potential. This highest stakes are valued at 1,000x your initial wager whenever the player is able to land five wild penguins on the reels.
Special Features in Holly Jolly Penguins
Holly Jolly Penguins has a number of special bonus features to add winning potential and additional thrills to the game. There are two special wild symbols, the candy-cane penguin and the singing penguin. Not only do they behave like normal wilds but they can also combine to yield high payouts according to the payout table.
Whenever seven scatters appear on the reels, players can win up to three times their initial bet. Scatters naturally have the potential to award free spins as well, as with many other online slot games.
Play Holly Jolly Penguins
Whether it's the most wonderful time of the year or not, anyone can come and have fun with the Holly Jolly Penguins. Come try it out and see what all the excitement is about today. Or if you're not feeling in the festive mood, then there's a huge range of slot games to choose from covering every theme imaginable here at Gaming Club. Holly Jolly Penguins or even Exotic Cats... which one will you prefer?