Game of Thrones 15 Lines
Game of Thrones 15 Lines is an epic online slot game based on the smash hit HBO TV show that has enthralled audiences around the world. So get ready for an adventure through Westeros as the great houses battle for the Iron Throne. It is said that when you play the game of thrones, you win or you die. Well you'll be pleased to know there's no dying involved in this slot game, but there are plenty of chances to win!
With riches to be won that could see you become as wealthy as a Lannister, this is a fantastic slot game to be enjoyed whether you're a die-hard Thrones fan or have never seen the show before.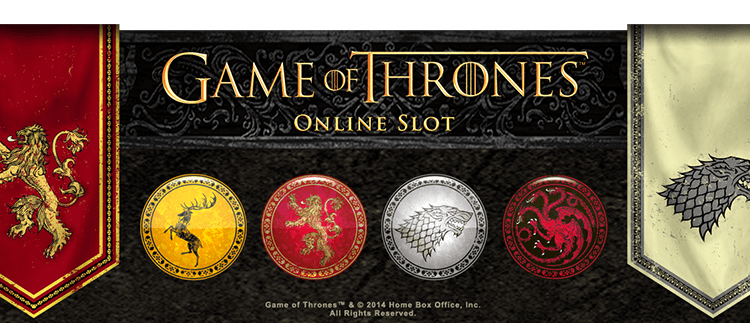 How To Play Game of Thrones 15 Lines
With 15 pay lines, you can place a bet from 0.01 to 0.02 coins and aim to hit the 30-coin jackpot. This 15-line video slot game opens with the bet box. This is the place to select both the coin value and number as the basis for your overall game. Then, to proceed, simply push the spin button. As an alternative, there's an auto-play mode that allows you to place multiple bets. Read on to find out more about what playing involves, as well as the rules, stats and special features.
Game of Thrones 15 Lines Rules & Stats
With an impressive RTP of 96.40%, the rules are fairly straightforward and there are just 10 symbols to familiarise yourself with. If you get 3 or more Iron Thrones on the reels, you'll secure the biggest payout. From here, in order of payout value from high to low, the symbols are Baratheon, Lannister, Stark, Targaryen, Ace, King, Queen and finally, Jack. When it comes to the Wild, the Logo counts and also offers a payout. In the game, Wilds can also be stacked to maximise a payout. In summary, the Game of Thrones 15 Lines slot has a good RTP and you can secure a reasonable payout outside of the free-spins round.
The betting range in a particular feature of the rules. Although payout opportunities can spring up and take you by surprise, this slot isn't a high-limit game, ranging from 0.15 to 75.00. Such a wide spectrum is ideal for all kinds of players, whether betting low amounts or putting a little bit more into the game. Although there isn't a progressive jackpot, you can use the Gamble feature for a further level of added interest and intrigue.
Special Features In The The Game Of Thrones 15 Lines Slot Game
The free spins are a particular feature of this slot. To benefit from these, simply land the Scatter in 3 spots on the reel. Then, you'll see a brief on-screen movie clip and will discover the house you belong to. From Lannister to Baratheon, Stark or Targaryen, these are assigned different spin volumes, plus a multiplier. Higher multipliers have lower spin numbers, but this doesn't detract from the payout potential.
Other key features of the game include the Gamble feature mentioned above. Here, you can gamble up to 4 times your payout amount. If luck is on your side, you'll secure a tidy sum, as well as enjoy the overarching smooth and seamless fantasy gameplay.
Live Like A King or Queen With Game Of Thrones 15 Lines
With plenty of action from free spins to short movie clips based on the actual TV show, there's a great structure and plenty of fun from playing this slot.
Of course, one of the top attractions is the storyline behind the game, which will be familiar to many. However, the structure is unique in the world of slots, yet easy to follow. The many familiar features on the slot itself such as the quick-spin, autoplay, five reels and 15 fixed pay lines make the Game of Thrones 15 Lines an experience to keep you on your toes, while providing great entertainment and payout potential.