Battlestar Galactica
Battlestar Galactica is an action-packed online slot game based on the popular 2003 reboot of the classic sci-fi TV show, which originally hit screens in the 1970s. The slot features 5 reels, 3 rows and a total of 243 paylines and comes with a great theme and a fantastic science fiction storyline inspired by the show.
If you're a fan of the show then you'll feel right at home here, but even if you've never watched Battlestar Galactica there's a lot to enjoy in this game. Take part in battles as you fly across the galaxy. Enjoy the adventure further by gathering as many coins as you can. All you have to do is match three or more winning symbols to receive the reward as well as a free spins round.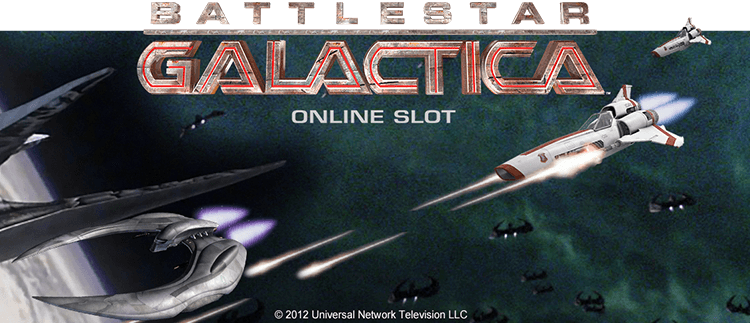 How to Play Battlestar Galactica Slot Game
Playing Battlestar Galactica is easy. Simply load funds into your account and proceed by placing a wager. You are allowed to place a minimum coin value of 0.01 and a maximum coin value of 0.5 either on a single line or on a maximum of 10 lines. Once you have set your stakes, it's time to start spinning the reels. If you get three or more combinations, you either win bonus rounds or coins depending on which symbols appear across the rows. You are at liberty to use the autoplay option, which will prevent you from pressing the play button every time you want to spin.

Battlestar Galactica can be enjoyed across a range of devices. All you need is an internet connection to play on your PC, mobile or tablet, with the graphics and interface optimised perfectly for all screen sizes.
Battlestar Galactica Rules And Stats
You will be amazed by the number of symbols available in the game. These symbols include Helo, Colonel Tigh, Starbuck, Apollo, Six, Tyrol, and Ellen. There are also other symbols like A, J, K, Q, and 10. The Battlestar Galactica logo represents the wild symbol. This symbol can replace any other symbol to achieve a winning combination except the scatter symbol, which is represented by a fighter spaceship.
If you match three or more battle stars, you will win yourself 15 free spins. During this free spins feature round, all your winnings will be multiplied by three. This gives you a chance to win big as you enjoy the gaming. So far, there are three types of bonus games that you stand to enjoy. These are the Ion Storm bonus game, the Free Spin bonus game, and the Jump bonus game. What makes Battlestar Galactica video slot game even more interesting is that it has an RTP of 96.62%.
Special Features In Battlestar Galactica
Battlestar Galactica has several exciting unique features and among them are the three play modes. You will be able to enjoy the fight mode, run game mode, and the normal game mode. All these modes are randomly activated but in different ways. The Normal mode comes with free spin games and storm bonus games. During the Run game mode, you have a chance to activate the bonus round. Lastly, there is the Fight mode, which is activated during the run mode. It comes with additional features such as an extra wild and free spins.
In Battlestar Galactica slot game, the free spin feature can be activated during two modes, the fight mode, and the normal mode. As mentioned above, during normal mode, you get 15 free spins. You, however, cannot reactivate the bonus game during this mode. While playing the fight mode, you get to enjoy 5 free spins. This comes with a multiplier, and you can unlock more free spins as you continue to play.
Get Ready For Thrills In Battlestar Galactica
Battlestar Galactica is a highly interactive slot game with a number of great features to thrill players. With a well designed interface and superb graphics, the game looks as good as it plays. Even if you're not a fan of the show, the Battlestar Galactica slot game comes highly recommended.