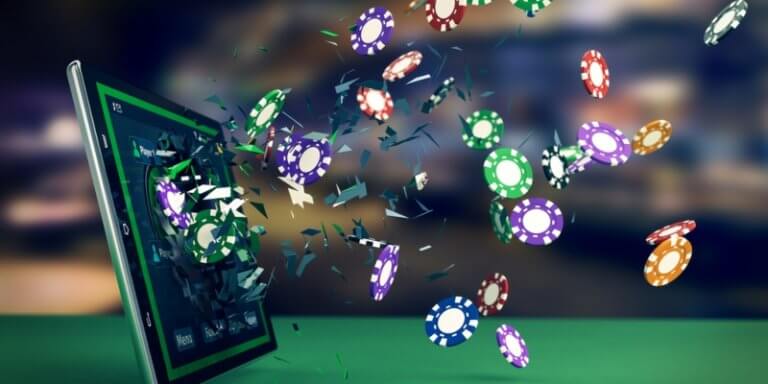 Source: Pixabay
People have been interested in gambling as a form of entertainment for thousands of years. But it wasn't until the 1600s that the first purpose-built casino was constructed for the purpose of playing games of chance in Venice.
Since then technology has moved on significantly, and we can now game online whenever and wherever we want. So the physical casino is dead, right? Let's take a look at the positives of playing at online casinos compared to land based casinos.
Online Casinos
Easy Access
One of the ways where a physical casino can't possibly match an online casino is the ease with which you can play games there. Online casinos are available at the click of a mouse on your computer, or with a simple tap of your phone, allowing you to access a world full of the latest and greatest casino games anywhere.
Just about everything about the experience of using an online casino is more convenient than land based casinos, from the process of registering all the way to the process of adding credit and retrieving winnings. You can even game in your bath robe, which would be frowned upon in most physical casinos!
One of the other benefits of this ease of access is that it's safer. You don't have to walk around with lots of cash or valuable chips in your pocket, and you can use third-party payment systems like PayPal to make extra sure that your transactions are secure.
Variety Of Games
Another area that physical casinos can't touch is in the variety of games on offer. With thousands of games available, online casinos have so much choice – including a huge range of slot games that players will never struggle to find something they enjoy playing.
When playing online you can also choose from many different versions of the same game, such as blackjack, and even take part in real-time versions with real dealers by playing live casino games.
Online casino games are often more interactive too, and while physical slots are getting more sophisticated, nothing can compete with the sheer variety of options and bonus rounds that you can find in an online slots game. This includes everything from fun free spins games to crazy bonus rounds or just useful features like re-spins and turbo modes that make your gaming experience easier and more enjoyable.
Your Winnings
Not only is there more variety, but playing at an online casino can be easier on your wallet too, with the potential for even bigger wins! For starters, online casinos typically have less overheads to operate than bricks and mortar establishments, so payouts can be more generous.
Online games have almost universally better odds than their physical counterparts, and the format makes it easier to offer a wide range of bets, so you can bet just about whatever amount you feel comfortable with rather than an artificial house limit. Similarly, jackpots aren't restricted by local or house rules, so there are a huge number of opportunities to win really big money, particularly with some of the progressive jackpots slots titles available to play online.
Physical Casinos
The Social Element
While it's undoubted that it's easier to play casino games online, some would argue that playing at home is missing some of the fun of the casino experience. Aside from playing games, there are other visitors to enjoy sharing a joke and a story with you over the tables, and you can always retire to the bar or restaurant during the evening to catch up with friends.
There's nothing online to compare with this side of the casino experience, the excitement of betting big in the company of friends, and if that's what you enjoy then it can be worth making the trip for this reason alone.
The Casino Experience
Not only can the company be fun at a physical casino, the gaming is also often just part of a wider experience that you get when you visit. Some casinos will have other forms of entertainment there too, and depending on the size of the venue, that can include a bar and restaurant all the way up to activities like bowling, live entertainment, live music and other diversions.
You'll often be provided with refreshments at your table to ensure that you're comfortable, and you can place orders from where you are so you don't even have to get up. The best land based casinos often go out of their way to treat customers like royalty, and there's nothing quite like getting dressed up to the nines for a night on the tables at your favourite gaming venue. Of course you might not want to do this on a daily basis, but as an activity to enjoy occasionally there's nothing quite like it.
The Rush
It's entirely possible to play casino games with other players online, but the experience is not always the same as you'll find at a land based casino for a number of reasons. Firstly, online play is usually not quite as pressurised: players have plenty of time to make bets, look at their cards and get up for a drink or a stretch. In a real-life casino, it's all on you to make your decision in the heat of the moment.
Playing games like poker and blackjack in a physical casino adds a level of human interaction that many people believe are the heart and soul of the game – the bluffs, tells, mistakes and fake-outs that make a game of cards truly adrenaline-pumping are all easier to experience face to face at a table. The pace of the games is also different, and you have to be quick and keep up in a casino. In fact, it's part of the game that decisions have to be made quickly, and it can feel like you're a totally different player under pressure.
Some people thrive on it and find it really ups their game, whereas others fold. Depending on your style of play, this can mean bricks and mortar casinos are a big advantage for you, or it can mean you should avoid them in favour of the online alternative!
Online Vs Land Based Casinos: Verdict
So when it comes to the question of online casinos versus land based casinos, which one comes out on top? The real answer is that these two options are different enough from one another, each with their own benefits, that there isn't a clear winner.
Playing online is of course the most convenient and accessible option by far. It also offers a huge range of games and access to some incredible jackpots. But as a form of social entertainment; getting dressed up for a night at a casino with friends, and perhaps enjoying a meal or a show as well, land based gaming still has a lot to offer.